COMPUTER OF THE WEEK:


Eagle IIe
VIEW DETAILS
SIGN OUR GUESTBOOK
"WHAT!!!! No Byte 8 microcomputer ??? I'll have to send you one.... Paul"

---
"This is a great website. You have a superb collection of vintage systems, and the extras you have added are a nice touch. I can't wait for the completion of the rest of this site. Great Job!"

---
"nice site dave"

---

DONATE YOUR OLD
SYSTEM
WE ARE ALWAYS LOOKING FOR VINTAGE COMPUTER SYSTEMS
IF YOU WOULD LIKE TO DONATE TO
THE FREEMAN PC MUSEUM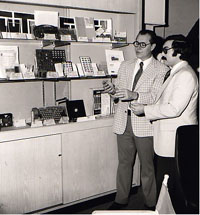 Larry Stein
Computer Mart New Jersey


East Coast Retail- Computer Mart of New Jersey Owned by Larry Stein. Larry went Stan Veit, owner of Computer Mart Long Island, and asked if he could use same name in NJ. Stan agreed but it was a bad decision as his customers would drive to NJ and buy to save sales tax. Stan Veit authored The History of the Personal Computer and was a longtime columnist at Computer Shopper Charles Dunning owned The Computer Mart of Boston. The East Coast retailers formed the first PC buying group called XYZ Corp to buy together and gain a price advantage. Larry was also part of the retail association ABCD that is now know as CompTIA.
<< Previous Hall of Famer
|
Next Next Hall of Famer >>